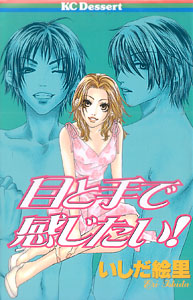 Title: Me to Te de Kanjitai!
Author: ISHIDA Eri
ISBN# 4-06-341189-3
KC Dessert Comics, 2002
Here is a volume I have had for a while now. I enjoyed it, and several other books by this author, so I figured I'd talk about it here. This is a one-shot collection of 5 short stories. While not exactly smutty, there are a few scenes involving nudity and sex. I enjoyed how these stories all seemed fairly realistic, well, compared to most other shoujo series 🙂 The heroines are not cutesy or clumsy, and while they do make mistakes, they aren't total wimps, either. The art style is not my favorite, but it isn't awful. The art quality changes a little in each story, leading me to think that they were produced at different points in the mangaka's career. Sometimes the characters look a little cross-eyed. ^^; The art on the cover and in the first few stories is nicer than in the last one. Still, it somehow manages to seem sort of messy, even while using clean lines and sparse backgrounds. I am not sure how she manages it 🙂
Story 1 is the one featured on the cover, and it involves one of the most common shoujo manga relationships — childhood friends. Nachi-chan and Yuki-kun are next-door neighbors and have known each other forever. They are extremely close, and are very familiar and comfortable with each other. However, contrary to what people at school may think, they are NOT dating. In fact, Nachi has a boyfriend, the handsome Asada-kun. Yuki and Asada aren't exactly friends. They sort of tolerate each other because of Nachi. As for Nachi, she really likes Asada, enough thta she had kept some secrets about him from Yuki-kun. You see, Asada is a bit of a player. In fact, she actually caught him cheating on her! But she decided to forgive him, and believe that it will not happen again. She never told Yuki about this though, and she feels bad about keeping the secret. But Yuki is beginning to sense there is something not right with Nachi. What will happen when he finds out?
Story 2 also involves a girl with a boyfriend who doesn't seem very faithful. The situation here is slightly different, though. Natsuko and Chiba-kun have been dating for a while, but their relationship isn't exactly smooth. Chiba-kun is also a player, but not in a serious way like Asada in Story 1. Instead, Chiba is a hopeless flirt. He loves girls, and they love him. He has lots of fun going out with them (parties, karaoke) and having a good time. Meanwhile, Natsuko valiantly puts up with all this, but not without giving Chiba-kun a lot of hell over it. However, Natsuko's rantings don't really do anything to stop Chiba's behavior. Natsuko is at a point where she pretty much ignores his flirty ways, as long as he doesn't actually sleep with any of these girls. And really, Chiba isn't serious about any of them. He claims to only love Natsuko, and he doesn't do anything smutty or serious. He is firm in his belief that he and Natsuko believe in each other. Sure, there is belief that no real cheating will go on, but his flirtations don't exactly make Natsuko feel good. She feels anxious and uneasy all the time, and she is about to reach her breaking point…
Next is a story told from the boy's point of view. MOTOMIYA Hiiragi-kun is a guy known for his ability to transform/makeover any girl to become pretty. (what is with all these shoujo manga guys who are stylists? It's very suspicious!) One day, Hiiragi is surprised to receive a makeover request from his male classmate, Toru-kun. Oh, the request isn't for himself. He wants Hiiragi to help his older sister become prettier! Toru's older sister is a 20 year-old office lady named Erika. Hiiragi is excited at the prospect of helping an 'older woman' and eagerly accompanies Toru to his house. But the sight that greets his eyes makes him recoil in shock. Toru's sister is rather scary. She is dressed n awful ratty clothes, she wears thick glasses, and her hair is in some ugly pigtails. Is this really a 20 year-old office lady? But Toru's pleading keeps Hiiragi from giving up. Erika is not the greatest conversationalist, and things are awkward at first. Can Hiiragi really polish this rough stone into a diamond?
The 4th story is about a girl named Wakana who has a crush on a boy in her class, the surly and aloof Azuma-kun. Azuma seems like a mean guy, but Wakana can't help liking him. Unfortunately, her hopes are dashed when she overhears her classmates ask him to go on a group date with them, and he refuses it, saying he already has someone he likes. Argh! Wakana is nervious and unsure around him, and has trouble expressing herslef. However, I like how this story ends 🙂
The last story is a short one-shot about a 20 year-old college student named Shouko and her 21 year-old construction worker boyfriend, Hisashi. Shouko and Hisashi live together. They have been a couple for a while now. Has the romance faded away? Do they still love each other? Shoujo surprises herself by feeling jealous when she sees Hisashi chatting happily with a cute female co-worker at his construction site. Why is she feeling so jealous now? I like how this story follows an stablished couple as they learn new things about each other and find ways to make their relationship work.