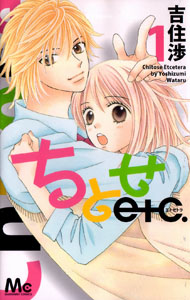 Title: Chitose Etc.
Author: YOSHIZUMI Wataru
ISBN# 978-4-08-846496-1
Margaret Comics, 2010
I was absolutely shocked when I realized that this is the first title from YOSHIZUMI Wataru that I am talking about on this site. How could that possibly be? She is the author of so many great and influential series! This is the author of Marmalade Boy, folks, a series that for some reason I don't have an entry for here! What is wrong with me? It's a glaring oversight that I hope to correct right away! Anyway, yes, Chitose Etc. is the latest series by the author of Marmalade Boy. Over the years, YOSHIZUMI-sensei has done a few more shoujo series (such as Ultra Maniac and Mint na Bokura) as well as some josei titles for older women. This one is firmly in the same target audience as Marmalade Boy though, and I think so far this one reminds me the most of that classic series. It is cute, filled with dramatic shoujo romantic angst, yet also very funny and light-hearted. The artwork by this author is, as always, very clean, cute, and airy. Chitose is adorable. I think Yuki looks better in the actual manga story than on the cover. This is volume 1 of what I hope will be a decently long series.
The lead girl is named, as you probably guessed, Chitose. She is a 15 year old first-year high school student who has grown up in Okinawa. She lives with her parents, while her brother, a novelist, lives and works in Tokyo. Chitose is a bit of a naive, innocent girl who can be rather silly at times, but is still cute. One day she is pestered by an unwanted talent scout and rescued by a handsome boy about her own age. They strike up a conversation, and hit it off right away. The boy, named Yuki-kun, is visiting from Tokyo with some friends. He is really cute and outgoing, and Chitose feels happy to be with him. They end up spending the whole day together, seeing various sights, having a lot of fun playing around, until they finally end it sitting together and talking. Chitose is surprised, but happy when Yuki-kun leans over and kisses her. What a perfect day! Yuki-kun is so wonderful!
All it takes is one kiss for Chitose to fall head over heels for Yuki-kun. When he has to leave to return to Tokyo, she is heartbroken, but determined to not let this be their last meeting. After all, her brother lives in Tokyo. She can move there and live with him! Then she can find Yuki and go to the same school with him and they can stay together! As far as Chitose is concerned, it's a great idea. She even manages to get the support of her brother, and after a bit of pleading, she convinces her parents to let her go.
So it is with a hopeful heart that Chitose ventures to Tokyo to find Yuki-kun. It's her miraculous luck that her brother happens to live in the same area as Yuki's school. (seriously, what a totally shoujo-manga-ish coincidence, and how convenient!) Chitose settles in with her brother and heads off to school, anxious to be reunited with her first love.
Um, only there is one small problem. When Chitose finally catches up with Yuki, he is not alone. Oh no. He is with a girl who looks like she is MUCH more than a friend. Ack! Yuki is shocked to see Chitose. In fact, he didn't even recognize her at first, and she had to remind him! The girl with him? That's his GIRLFRIEND Saaya! Wait a minute, if he has a girlfriend, what was he doing kissing Chitose!? All of Chitose's sparkly, fluffy, romantic dreams come crashing down as she learns that Yuki is a hopeless flirt and popular with girls.
One thing I like here is how the story does not make the fact that Yuki kissed Chitose into some huge secret to be kept from Saaya. Instead, Chitose spills out her whole story and reason for coming to Tokyo right away, so Yuki and his group of friends know it all from the start. Chitose is obviously upset that Yuki would treat her this way. To Chitose's innocent point of view, a kiss is very important, something you only do with someone you really care about. Unfortunately, that is not how Yuki or even Saaya see it. In fact, the news that Yuki kissed Chitose doesn't bother Saaya at all! A kiss is nothing! To demonstrate, she even kisses Chitose too! All of Yuki's friends share this thought, and soon Chitose has several kisses!
What is UP with these weird Tokyo kids?! How can they be like this? Tokyo is like another planet compared to Osaka. Chitose is kind of horrified, and wants to go back to Osaka. However, she is stuck in Tokyo now, and must make the best of it. But how can that be easy when the guy you like has a girlfriend? How can she just turn off her feelings? Things get more fun when Chitose and Yuki discover that they live in the same apartment building! Now they will run into each other all the time! Poor Chitose. How will she survive high school?