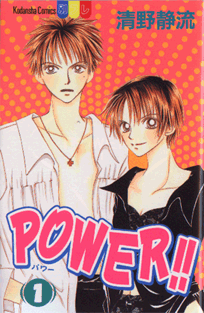 Title:Power!!
Author:SEINO Shizuru
ISBN# 4-06-303176-4
Kodansha Comics, 1999
I had no idea when I bought this that there would be crossdressing in this, really! I mean, this cover looks pretty normal, right? 🙂 Well yeah, here we have another shoujo manga crossdressing story! I can really pick 'em! This is by an author I have not read before, but the story is pretty cute. The artwork is cute as well, very clean, if a bit plain. And The heroine in this looks a lot more convincing as a boy than Mizuki does in Hanazakari no Kimitachi E! This is volume 1, and it ends in a cliffhanger, of course. There are over 7 volumes of this series out now, I believe. Wow!
Think 'Hanazakari no Kimitcahi E' but with basketball. AIZAWA Kyou is a high-school girl who has just moved to a new town. She is extremely excited about starting a new school soon. The uniforms there are so cute! However her happiness is shattered when she opens the box her dad gives her containing her school uniform. It's a boy's uniform! EEEHHH? Kyou is very mad! It looks like her father has enrolled her in the new school as a guy! Why? Well, he is a basketball fan, and raising Kyo, he taught her to play basketball very well. The school Kyou will be going to has a championshio BOYS basketball team! This proud father really wants Kyou to play! There is not much arguing Kyou can do, the deed has been done. Besides, she really likes basketball. So, off goes the long hair, and on goes the boy's uniform, and Kyou starts her life as a boy!
Kyou finds the basketball court very quickly, and watches a game of 3 on 3 that is in progress. She sees that one of the guys is really~~ into the game, his love for basketball is obvious. This gets Kyou so excited that she immediately asks to join the school team. The coach decides to give the new 'boy' a chance. So Kyou joins in the game. She is happy because the guy she watched earlier is there, and will be on her team! However the guy (his name is Chiharu), is very rude to Kyou, and sparks fly as Kyou gets angry. and they play seriously. Kyou amazes everyone with her skill, and the team captain, Imai-san, is impressed. He declares Kyou and Chiharu to be a great combination, much to their dismay. Sure there is a lot of sports action, but lets not forget this is a shoujo manga, and so we must have the romance! Just like in HanaKimi, Kyou has to live in a boys dorm, and as you would expect, none other than Chiharu ends up being her roommate! Ah, such cosmic shoujo coincidences! So now they are forced to be in close quarters, but Chiharu is definitely not friendly towards Kyou. Meanwhile, the team captain (himself very cute!) is apparently the dorm leader as well. Is there a triangle brewing? Hmm!
This series has been licensed for release in English in the US under the (silly) name "Girl Got Game". It can be purchased HERE!