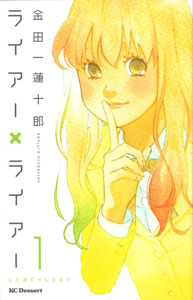 Title: Liar x Liar
Author: KINDAICHI Renjuro
ISBN# 978-4-06-365629-9
Kodansha Comics, 2010
I was surprised when I saw this book in the shounen manga section of my local Japanese bookstore. This cover didn't really look shounen, and sure enough, after I examined it more closely, I could see that this manga contains an ongoing story that is being published in Dessert magazine. That's definitely not shounen. In fact, it's not shoujo, either. This is a josei manga – a title aimed at a slightly older female audience. But why was this book shelved over with the shounen manga? This series has a very shoujo feel to the art style. It doesn't look shounen at all. I enjoyed volume 1 of this very much, though I had to laugh at the plot because it is so very…. only in manga. Great stuff here 🙂
What do you do when you are your own love rival? The heroine of this manga, 20 year-old TAKATSUKI Minato, finds herself in such an odd situation. It all starts when Minato helps her friend Maki move into a new apartment near Shibuya. While unpacking boxes, Minato finds Maki's old high school uniform. It's really cute, and for fun, Minato tries it on. Amazingly, it fits well, and after a little hair styling from Maki, Minato looks just like a high school student again. For fun, Minato goes outside for a walk, to see if she can really pull off wearing a school uniform again. But then things go downhill when she bumps into someone.
Oh no, it's not just some strange she has run into, it's her younger step-brother, Tooru! Ever since their parents got married and he became her younger brother (well, he is only younger by a few months) Tooru has been a thorn in Minato's side. Why? His popularity! Tooru is very cute, and when they were in junior high, all the girls wanted to go out with him. This made everything quite difficult for Minato, who had to deal with jealous and angry girls all the time. And Tooru was quite the player, dating a lot of them. It has been a relief since starting college, to not have to see him all the time and deal with his jealous girlfriends anymore. Even though they both still live at home, they haven't talked in a while.
Tooru is the last person Minato wants to see while dressed up in the embarrassing school uniform. So when he helps her up and stares at her, asking her what she's doing, Minato immediately reacts like she has no idea who he is. Tooru is confused, because she looks a lot like his stepsister, but amazingly, Minato manages to convince Tooru she is someone else entirely. But just when Minato thinks she has escaped the uncomfortable and embarrassing situation, Tooru expresses interest in meeting her again! Why, oh why did she agree to this?
Soon Minato is borrowing Maki's school uniform every day and meeting up with Tooru disguised as high school student "Mina." Considering how flimsy the disguise is, I'm surprised he buys it, but Minato's personality does change dramatically when she pretends to be Mina. And she is surprised when her stepbrother's usual quiet, uninterested player personality changes into something more sweet and devoted. What's happening here, Minato can't believe it, but her player stepbrother might actually be falling for Mina! But can she really date her stepbrother? Not to mention dating him while disguised as a high school student? Talk about all kinds of awkward!
Oh, and then there is a nice guy Minato meets at a group date with Maki. His name is Karasuma-kun, and he is quite handsome. Actually, he is someone Minato knew back in 6th grade when they attended after school supplemental lessons/cram school together. It has been 8 years since then, but she still remembers him, and he seems to like her, too. She couldn't possibly be thinking of dating him, too? Have one boyfriend as Minato, and another boyfriend as Mina? Who's the player now? The biggest lie Minato's ever told soon gets her into quite a ridiculous predicament, how will it play out?
I really enjoyed this volume! Tooru is kind of an enigma, and I am curious to learn more about him. Minato has herself in one of the more unusual love triangles I have seen in a shoujo/josei manga. She handles herself very well, considering her lie has spiraled out of her control. I can't wait for the next volume!