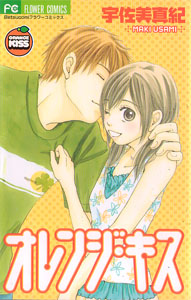 Title: Orange Kiss
Author: USAMI Maki
ISBN# 4-09-138224-X
Flower Comics, 2003
I know, USAMI Maki yet AGAIN. Don't worry, I will summarize stuff by other authors again soon! Really! I have a pile of stuff right here that I need to go through! Anyway, my USAMI Maki obsession continues with this one-shot volume, I think this one may actually be my favorite one-shot from her. As usual, the art is cute. I especially like when her characters are really surprised or SD in the background. So adorable ^_^ This book contains 3 main stories, and then a fourth quick sidestory that relates to the first one. The first story IS my favorite, so I was happy to see that little extra chapter at the end 🙂 I just realized that I am *gasp* missing another volume that USAMI Maki did (I had thought I had a nearly complete collection) so now I am gonna have to track down the one I am missing. Yay! Anyway, on with the description…
The title story of this volume involves a very interesting couple. The heroine is highschooler KIJIMA Aka. One night she has a dream where she is standing near the water with a boy, the setting sun casting an orange glow around everything, and she receives her very first kiss. Ahh, 'it is a nice dream,' she thinks, before she fully wakes up and comes to her senses. Wait, what? Her dream! The boy! That boy who kissed her in her dream was her classmate SHIMIZU-kun! How embarrassing! Aka does not get along with him, why is she dreaming about him? There isn't exactly a reason they don't get along. They just don't speak to each other, and Aka thinks that he doesn't like her for some reason. Now why would she be kissing him in her dreams? That day at school, Aka can barely look at him, the dream keeps popping up in her mind. He reacts to her behavior with hositlity of his own. Why is their relationship like this? Aka's friends want her to go with them on a group date, but Aka can't decide if she should go or not, her mind is filled with Shimizu… will he make her dream come true?
The second story is also super adorable. It follows the trials and tribulations of MANABE Saiko, a very pretty high school girl. Saiko is tall, graceful, and beautiful. She was even scouted by a magazine to become a model for them, but she hasn't accepted the job yet. Because of this, other girls don't like her much, and she is always being pestered by guys. One day at the school festival, Saiko tries to get rid of some unwanted male attention by claiming that there is already a guy she likes. When pressed to elaborate, she blurts out the first name that she sees, printed on a flyer advertising a concert going on in the school gym. The pesky guy backs off, and Saiko goes over to the gym to watch the concert and see who the guy she randomly picked is. Turns out, his name is KASHIWABARA Hajime, and he plays in the brass band. It looks like he plays the bass? He is tall and wears glasses, and plays very well. Saiko is impressed by the music and his playing. When Hajime ends up helping Saiko find her missing shoes (taken by some jealous classmates) they strike up a friendship. Hajime is well-liked by everyone. He is a really nice guy. He encourages her to be strong and gives Saiko the self-confidence to accept the modelling job. However, when it comes to him, her confidence fails. He is nice to everyone. Their classmates don't like seeing them together and resent her taking their Hajime away. Does Hajime really like her, or is he just being nice?
The third story is a romance that begins on a train station platform where a girl and guy who go to different schools wait for the train every day. When she finally confesses and he agrees to go out with her, things seem great, but her confidence is shaken by his seemingly uncaring attitude, and when she catches him taking a train trip without her, she confronts him to find out just what is going on!
Finally, the last short chapter brings back the characters from Orange Kiss. In it, we get a glimpse of Shimizu-kun's perspective of Aka during the time when they did not get along. His view is very different!
*sigh* Another cute USAMI MAki volume!