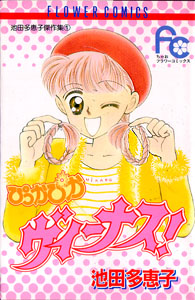 Title: Pikka Pika Venus!
Author: IKEDA Taeko
ISBN# 7-09-135101-8
Flower Comics, 1993
Ahh, I am taking a little step back into the past with this entry. Here we have Pikka Pika Venus! From 1993. Wow, this is from back in the days before "Flower Comics" became synonymous with "Smuty Shoujo" ^_^ I don't know how long I have had this volume, but it has been ages since I read it. I was happy when I picked it up again. As you can see, the art style is very dated. It reminds me a lot of Sailor Moon/Naoko Takeuchi style. Heck, most shoujo manga back then had this sort of look to it. Anyway, this one-shot volume is super cute and worth taking a look at 🙂
Hikaru-chan is an average 16 year old girl who works very hard to help out her single-parent father in the restaurant they run. She also takes care of her baby brother. She is a busy girl, but all the customers at the restaurant love her and appreciate how hard she works. One night Hikaru gets quite a surprise when one of the restaurant customers is found laying on his table, sobbing and drunk. He is very upset over the state of affairs at his small company. He really needs some help there, or he is finished! And he has a wife and child to support…
Hikaru, being a very friendly and helpful girl, offers to help him out with whatever he needs. So, the next day she reports to this customer's office to begin a part time job. However, Hikaru is shocked when she learns exactly what kind of job this is! They want her to be… an idol?! You see, the customer's small company is a talent agency, and they really need a new talent to become an idol for them. And Hikaru fits the bill perfectly!
She is a bit reluctant at first, but eventually Hikaru agrees to give it a try. This leads to a lot of difficult and taxing work- singing lessons, hair and makeup consults, dancing practice, and more. It is all very exhausting, and Hikaru really feels dazed by the time she is scheduled to make her first television appearance. She ends up making a total mess out of it, and loses confidence right away. Just when she feels at her lowest, she runs into a strange (but cute) boy who says some encouraging things that really cheer her up. He is cheerful and confident and very handsome.
Hikaru is a cute but clumsy and average girl. Can she really make it in the high-stress world of idols? The business is very competitive, and Hikaru discovers she has rivals she didn't even know about. And that strange boy who helped her turns out to be someone very famous! Meanwhile, is all her work at the idol agency causing her to neglect her family? From TV performances to live musical theater, Hikaru vows to give it her best shot!