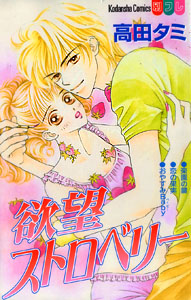 Title: Yokubou Strawberry
(Desire Strawberry)
Author: TAKADA Tami
ISBN# 4-06-341309-8
Kodansha Comics Betsufure, 2002
Ahh, simple, silly, and cute is the theme this time! This is a completely random volume that I picked up at a used manga store because it was (ahem) cheap, lol 🙂 And the cover was very cute. I seem to like covers with a lot of pink, and the "strawberry" in the title usually indicates some fun. This is a collection of 4 one-shot stories. I guess I wouldn't classify them as all-out smutty, but it can get suggestive, and there is a little groping 🙂
The first story is rather silly, but I like it just the same. The heroine is a girl named Mio. Today is her 16th birthday, and to celebrate, her friends are taking her to get her body painted. Wait, what? Well, there is a salon where they will basically paint on fake tattoos. They specialize in painted on body art. Her friends love this place because the renowned artist Tomoki works there.
Now, I can't imagine a guy becoming famous for painting fake tattoos on people, but ok, I'll go with it. Mio agrees to accompany her friends, but once she gets to the studio, she becomes really shy. She is wearing a tube top that covers her chest, but she is still nervous. A female artist wants her to uncross her arms from the concealing posture she has so she can see Mio's body, but Mio is too embarrassed. Then a handsome guy appears and claims that Mio has a lovely figure and decides to paint her. He grabs her and drags her to a chair, where he proceeds to paint a really pretty picture of some strawberries on her chest, while flirting shamelessly with her the whole time. He claims that Mio has the prettiest body he has seen, and he even kisses her! That cad!
Naturally, it turns out that this guy is none other than the famous Tomoki! Tomoki is actually still a college student, but he is a body-painting prodigy (they have those?) and he has become famous for his body painting. Mio is flattered that he wanted to paint her, and has a small crush. She can't quite believe it when, the next day, he appears at her school in his red sports car, ready to pick her up for a date! Hello, she just turned 16! Anyway, Tomoki seems to really like Mio, but how can this be? He is always surrounded by famous, beautiful (age-appropriate) women. Surely he is playing around with her?
The next two stories feature the same couple. This time the heroine is a 3rd year high school student named Rena. Rena is tall and beautiful, and very self-confident. She has had many boyfriends and is popular. And she can take care of herself. However, one night while on the train, an old man gropes her behind. Rena, angry, begins to take the old man to task and punish him, but before she can do much, she is 'rescued' by a handsome guy who claims she is his girlfriend. He threatens the old man (who happens to be a lawyer!) until the groper runs away. Now Rena doesn't think she really needed the help, but the guy is very cute, and has a sort of charisma.
Looking at his uniform, he goes to her school. It turns out that his name is Kuramoto-kun, and he is a first year at her school. Hmm a guy two years younger than her…. In spite of their age difference, they soon become friends. Rena is impressed by how kind and thoughtful Kuramoto is. He is polite and helpful, and occasionally shy. But he isn't her type at all, really. But his straightforwardness draws her to him. Can they really become a couple? Rena has a lot more experience than Kuramoto, including past boyfriends and some obnoxious friends. Their ages are different, and their personalities seem so opposite to each other!
The last story begins with a cute guy, Takatsu-kun, inviting a girl, Nozomi, over to his house while his parents are out of town. This invitation catches Nozomi by surprise, and she doesn't know what to do. All of her classmates are surprised too. Nozomi just recently started going out with Takatsu. What he seems to imply by her visit to his house seems awfully sudden to her.
Her friends start placing bets on how far Nozomi will go with Takatsu (hahah!) but Nozomi is too nervous to think about that. She doesn't even know what she will wear. But when she gets to his house, Nozomi is in for quite a surprise!