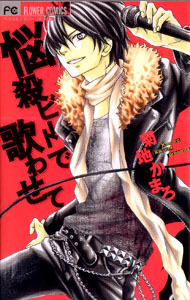 Title: Nousatsu Beat de Utawasete
Author: KIKUCHI Kamaro
ISBN# 978-4-09-132160-2
Flower Comics, 2008
I bought this one because of the author and title. I really like this author's previous work, in particular, her "Nosatsu Rock Shounen" series about a girl and her geeky boyfriend who is actually a hot rock star. I figured that with the title, "Nosatsu Beat de Utawasete" this may be a sequel or something. Well, it is related to "Nosatsu Rock Shounen" but it is not a direct sequel. I was rather disappointed because of that, however, this book is still great in its own right, and worth checking out. The artwork is cute and fairly clean, and I like the sort of 'wild' look the mangaka gives all of her guys. This book is a collection of five short stories.
The first story matches the title on the cover, and stars one of the supporting characters from "Nosatsu Rock Shounen", the popular musician, Ash. Our heroine is a high school girl named Makoto. She is a big fan of Ash, and thinks he is the greatest. Recently, there have been rumors on the internet that Ash once had a lover/girlfriend, but that she is dead. It's sort of a tragic rumor, and Makoto doesn't really know what to believe. One day, while walking home from school, Makoto and a friend spot Ash and he is trying to get into a car. He is surrounded by screaming fangirls. Excited, Makoto wants to get closer, but it's tough to get through the crowd. In desperation, she calls out his name… and to her surprise, he stops and turns towards her. Woah, he heard her? Out of all the other screaming girls? Yes, Ash heard her, and when he sees her, he asks Makoto to hang out with him! Right in front of everyone, he says this!
Makoto is thrilled to pieces about this, until she realizes that by 'hanging out' with him, he means 'work as my tour/support staff slave'. Makoto is now employed as one of Ash's staff members, helping to set up concerts and live events and signings. This behind-the-scenes exposure to him knocks him off the pedestal she was worshiping him on, but they still manage to become close in a reluctant friends sort of way. Makoto learns about his selfish personality, his childishness, and how much he sucks at playing Wii games. But still, there is something about his music that draws Makoto in. She loves his music… but what about those internet rumors?
Story 2 is a fun tale about a girl named Nanako, and her yandere childhood friend, Kazui. A "yandere" is the opposite of a "tsundere". While tsunderes are surly and mean, it is really just a cover for how soft and loving they are on the inside. For yanderes, they are cute and playful/harmless on the outside, but it is just a cover for how devious and mean they can be. In the case of Nanako, she has just been dumped by her current boyfriend, and her childhood friend Kazui acts all shocked, sad, and supportive in front of everyone in a very cute and over-dramatic way. Everyone thinks Kazui is very cute. But when they are alone, Kazui can be mischievous, and teases Nanako. He has known her forever, and knows that when they were kids, she used to be fat, and was always made fun of by everyone. However, after working hard for a long time, Nanako finally became thin and cute and stylish. Kazui is always eager to threaten to show old photos of Nanako to their classmates. But Nanako will not let Kazui defeat her. She'll show him! She will get a great new boyfriend! And nothing Kazui can do will stop her! But he does try some interesting things…
Story 3 follows a couple who have been going out for 3 years already. Eita and Sakura have also known each other forever, but in their case, they have always liked each other, and one spring when Eita confessed, it felt only natural for Sakura to accept. They are very close. But now 3 years of passed, and it's the start of a new school year. Sakura's classmates can't believe she is dating Eita, and that she has been with him for 3 years, and they haven't done anything more drastic than kissing yet! Surely they have had sex by now? All this talk suddenly has Sakura worried, and now she feels uncomfortable around Eita, who has always been so familiar to her. She is jumpy and nervous, and starts having these strange fantasies… Eita has no idea what is going on with Sakura. Will her weird behavior drive him away?
Moving along, the next story starts with a girl named Yuuko seeing a very strange boy standing in the rain. He has an umbrella, but it's still closed up, and he is just standing there. Yuuko thinks he looks like a robot. The next day, this 'robot' guy is introduced to her school class as a new transfer student, YUKIMURA Sou. Yuuko, surprised to see him, blurts out 'Robot boy!" when she sees him, and soon her nickname for him sticks. Everyone at school calls him "Robo" and it turns out to be a very good nickname. Sou is a very expressionless guy. He is also really good at everything he does. He is smart, rich, great at sports, handsome. Really, he is like a perfect guy. Yuuko finds herself falling for him, but can you really win the heart of a robot?
Finally, we have the cute story of Rika, a very shy and straight-laced girl who is in charge of the school library. She is the serious, studious, type, but every day as she sits in the library, her eyes are drawn to the handsome and outgoing UZAKI Kai, a member of the swim team. She has a secret crush on him, but he is athletic and handsome and popular. But he is always in the water, and Rika doesn't know how to swim. Then one day he offers to give her swimming lessons…
Five cute and fun stories in this volume. I would like to see more adventures of Ash, or even Nobitani from the original Nosatsu Rock Shounen series 😀