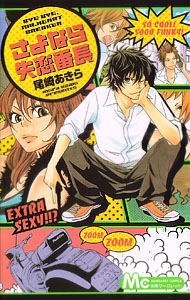 Title: Sayonara Shitsuren Banchou
(Bye, Bye, Mr. Heart Breaker)
Author: OZAKI Akira
ISBN# 978-4-08-846361-2
Margaret Comics, 2008
I decided to talk about this series today because the cover of this book makes me laugh. I am always amused by random Engrish, especially when it appears on manga covers or in manga dialog. In this case, we have a cute, sort of wild, guy on the cover, and above him it says "So Cool! So Funky!" How great is that? Then down below there is that picture of a scooter, and it says "Extra Sexy!" Hahahah, yeah man, scooters are SO sexy! There is no way I could resist this book, the cover is just too silly! This is a fun and frantic one-shot volume. The art style is very exaggerated, and it parodies both shounen and shoujo art styles, including my favorite, 70's shoujo manga style. This is a fast-paced book, with a lot going on all the time, and very crazy characters. There are two stories, each one filling half of the book.
The hero and heroine of the first story know each other very well. His name is SHIBUTANI Hiromi, and he is quite the character. He is a tough, wannabe gang/punk guy who speaks roughly and wears his hair in wild styles, like straight up in one of those 50's pomps that Japanese gang guys seem to like, or in tousled waves or short spikes. He tries to act cool, but I think he fails most of the time. He reacts strongly, and in a very exaggerated way over everything. He is also unlucky in love.
Our heroine is not much better. Her name is OOTSUKA Junko, and she is a first year high school student like Hiromi. And, like Hiromi, Junko has a very tough, almost gangster, look to her. At the very least, she is a tomboy, and she is just as prone to reacting strongly to things as Hiromi. She has also yet to find her true love. She sometimes has very uber-shoujo fantasies, and will imagine herself in 70's shoujo style. I think it is hilarious when Junko goes into 70's shoujo manga mode because she gains the galaxy eyes and the crazy tongue sticking out that I talk about over here.
She and Hiromi make quite a pair. They are always together, but they are always fighting with each other like long-time rivals. Yet they have respect for each others fighting skills. The reason behind this strange friend-enemy relationship dates back a few years prior when Hiromi's mother abandoned him and his father. It turns out that she ran off with Junko's father! Needless to say, this was not a great way to start a friendship. Now the pair are very close, but they enjoy fighting, putting each other down, and teasing each other.
Junko, in spite of her habit of wearing a one-piece coverall/jumpsuit thing all the time, does have some girlish habits, and she does want to find a boyfriend. She gets little crushes on the cute boys at school. Hiromi is not impressed by all of her silly dreams of finding a guy, and makes fun of her about it. This, of course, makes Junko react angrily, and once again they are fighting like cats and dogs.
But then the impossible happens. Junko gets a boyfriend! Even better, it is the very same cute sempai she has been admiring from afar earlier! Junko is so excited! But what about Hiromi? Junko isn't the only interested in love. But in his case, he has already found it…
Story two also has a wild assortment of characters. This time the heroine is an 'ojou-sama' type – a wealthy, gently-raised young lady. Her name is Anna, and her story begins when she runs away from home. She is fleeing an arranged marriage that her father has set up (after all, she is already 16!). Anna can't stand the thought of marrying the guy her father picked out, and she remembers the words of her mother, spoken on her death bed, about how falling in love makes a woman beautiful. She doesn't love this random guy! Then she finds a letter in a diary, written to her from her mother. With it is a photo of a young man.
So she runs away, determined to find this guy, whoever he is. Her search eventually leads her to a small shopping district, filled with some very quirky characters. She ends up in a new-half hostess bar, a bar where all the hostesses are men in drag. She finds the boy she was looking for here, so you can guess how he is dressed…. Anna is quickly drawn into a strange world that is very different from her own, but may be just the place where she belongs.
This book is great fun. Every page is filled with crazy expressions and wild poses. There is a lot of fighting (both with words and with fists), bizarre competitions, and parodies of all sorts of genres. I like how the first story is told from Hiromi's point of view as the narrator. Most shoujo stories have the heroine the heroine act as narrator. I recommend this book, if you can keep up with it!