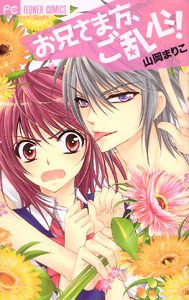 Title: Oniisamakata, Goranshin!
Author: YAMAOKA Mariko
ISBN# 978-4-09-132653-9
Flower Comics 2009
It was the combination of the cover art and title that drew me to this series. I like the irritated look on the girl's face, and the mischievous look on the guy's face. I also thought it was cute that he holds a bouquet of flowers. The title of the book indicated that this may have something to do with some older brothers, and, I admit, that this type of story is another guilty pleasure 🙂 Upon reading the book, I found that it has really nice, clean artwork, and includes parodies of 70's shoujo manga art style. I love how so many series these days like to parody the trademark 70's style! The plot here is nothing I haven't seen before, but the author has fun with it and makes it even more outrageous with all the exaggerated character types and situations. As if this wasn't already an unlikely story, the author pushes things a bit over the top. So I had fun here, in spite of the common premise. The main story takes up most of the book, but there are 2 unrelated short stories that follow it, and then a brief comic that returns us to the main couple from the first story.
The story begins with a memory. A little girl named Miyuki is at a hospital, standing at her mother's bedside. It appears that the mother is dying, and she is giving little Miyuki some final words. She tells her to behave and listen to her father, and to get along well with her brothers. And even though she is going to a far away place in the sky, she will always be watching over Miyuki. Flash forward 10 years, and we have an exasperated Miyuki, thinking to herself that she won't be able to keep her promise with her mother because her brothers are driving her crazy!
Miyuki is a 16 year-old high school student. She lives in a very lively household with her father and her three older brothers. Her brothers are quite interesting characters. The oldest is Yukiya. He is 25, and is a novelist. Next is her brother Kousuke. He is 22 years old, and works as a Host. Finally, we have Masaki. He's 19, and an idol. What these brief descriptions don't tell you is that Miyuki's brothers are actually very weird! Yukiya is tall and cool, with dark hair and glasses. He is also a sadist, and his main hobby is tying people up! It is kinda cute to see him practicing his bondage knots on poor Kousuke 🙂 As for Kousuke, yes, he is a host, but he is not a suave and cool host. The host he most resembles would be Honey from Ouran Host Club. Kousuke is small and child-like. He likes to wear little bunny outfits. He does NOT look 22! He lets Yukiya tie him up, and looks rather funny as a bondage bunny! Masaki is more "normal" than his brothers, but even then, he has the glamor of being an idol. He is always in commercials and on billboards. However, his personality is devilish, and he can be playfully mean to poor Miyuki.
With such wacky brothers, Miyuki has a hard time trying to be a normal high school student. She has classmates who know all about her brothers and they all worship them. Miyuki likes her brothers, of course, but she has a crush on her classmate, the gentle Ishida-kun. Ishida helps Miyuki out at school, and seems to like her, too. But Miyuki is paranoid about her strange family. She could never bring Ishida home with her!
Something I like about Miyuki is that even though she has been spoiled by her dad and 3 over-protective big brothers, she is not a wimp, and is perfectly capable of taking care of herself. There is a scene where she is going to be attacked on the street, and it turns out much differently than what usually happens in shoujo manga. (and how they react when they see her brother Yukiya is priceless!) Her brothers have lots of fans, and they can be jealous of Myuki's close relationship with them. Just as jealous as one idol Masaki can be when he seems Miyuki with Ishida-kun.
Naturally, this wouldn't be a sibling-focused shoujo manga if there weren't some questions as to if they are all really blood related or not. After all, if Masaki starts to like Miyuki as more than a sister, it would be really awkward if they turned out to really be siblings. Miyuki doesn't have any reason to question her relationship with them, or her father. Are they really related? Is a romance even possible? Or will Miyuki capture Ishida-kun's heart instead? A family crisis will help to make everything clear!
This is a fun series. There is a lot going on in every page, but it is not confusing. The romantic sibling angst is familiar, but the wild expressions they all have, and their quirky habits make this quite entertaining. There are great reaction shots and parodies of different art styles, and the rest of the artwork is sparkly and pretty.
The next story is absolutely ridiculous and fun. It follows the adventures of 2nd-year high school student Sakiko. The school she goes to is a private Catholic school, and there is one really handsome priest there that all the girls drool over. He is young and gentle and sparkles a lot. But hey, now, he's a priest! But while everyone else swoons over him (his name is Father Sakurai), Sakiko is not as impressed. She thinks he can't be that perfect and angelic, and suspects he has some weird deviant hobby that he keeps secret. And actually, it turns out she's right! You see, he is not just a priest. He is also the head of a large Yakuza family! (I love how so many series take a normal profession, and throw in yakuza to make it fun). Sakiko ends up getting swept into Sakurai's yakuza dealings (he still manages the group!). Can such a timid guy really run such a dangerous group?
The last story is a silly, fluffy take of a girl stuck on the student council of a fabulously wealthy school. The other members of the student council are rich and gorgeous and rather mischievous. Can she keep up with this lively and handsome group of guys?