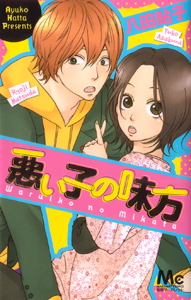 Title: Waruiko no Mikata
Author: HATTA Ayuko
ISBN# 978-4-08-846470-1
Margaret Comics, 2009
I must say, yet again, that I absolutely love this author's artwork. There is something unique about it that I can always recognize it when I see it on the shelf. It's clean and simple, and all the characters look so cute. This cover has such bright colors, and the linework feels a little soft somehow. Very appealing. I like how she draws noses for some reason, too. And the exaggerated expressions she gives characters when they react to events are so silly! I like to just look at each panel and admire the artwork. It is also nice that along with great artwork, there are also fun, entertaining stories. This is a book of 4 one-shot school-life romantic comedy stories. Nothing smutty actually happens here, though there are a few scenes where a character's imagination runs a little wild 🙂 I continue to hope that this author will get to work on a long-running series instead of these collections of one-shots. I think she could do a great job with a more established romantic comedy where characters are allowed to develop more.
The first story is about an adorable couple who are still getting to know each other and are a bit awkward in their relationship. Yuuko and Ryouji are both 15 years old. They met 1 month ago when Yuuko was a customer at a cafe Ryouji was working at as a waiter. Yuuko fell for him at first sight, and pretty much confessed right away. Ryouji was equally smitten. Now they have started to date, and right away, Yuuko has all kinds of romantic and passionate thoughts about Ryouji. She has dreams where he holds her close, saying romantic things to her, then he leans in closer like they are about to do something a bit more adult in nature… but then she always wakes up (clinging to her body pillow,lol). Oooh, Yuuko has quite a dream fantasy there! But her dreams make her act rather awkward around Ryouji when she is awake. Yuuko has sex on her mind, and her friends aren't helping with their encouraging talks and gifts of adult magazines. It's all very embarrassing. How does Ryouji feel? She can't let him know she is having all these wild fantasies! But when he suggests they go on a trip together alone, Yuuko can't refuse! But…. what will happen on this trip? Will it be…. dangerous? Ahh, Yuuko and Ryouji are so cute! Ryouji obviously really likes Yuuko. He blushes a lot, and his reactions to the things Yuuko does are hilarious. I can't help but cheer for this silly couple!
Next up we have a tomboy heroine. Her name is Rin, and she is a 2nd year high school student and member of the Girl's basketball team. Rin has a hopeless crush on Higa-sempai, a guy on the boy's team. Rin's admiration is obvious, but Higa seems sort of oblivious to it. He treats her kindly, though, so there is a chance he may like her, but Rin doesn't know. When Rin gets a chance to visit Higa-sempai at his home, she jumps at the chance…. and lands right into the bed of Higa's younger brother! (oops!) You see, while at Higa's house, she looks for Higa's room. When she finds it, she gets a little carried away by the sight of it (and being in her beloved sempai's room!) that she drifts to his bed and clings to it. What she doesn't realize is that the bed is occupied! The boy in the bed is disturbed by Rin's antics. Rin is shocked, naturally, by his presence, and tries to get away, but the boy is fast. He obviously finds Rin to be very intriguing… Rin soon finds herselc caught between an angel and a devil. Who will she choose?
The third story is a very silly tale of a fashionable girl and a macho athletic guy. The girl, Erimi, is thrilled when her friends invite her to go with them on a group date with some guys from the famous "K" school, a school known for its handsome, perfect-boyfriend-material guys. Sure enough, the guys at the date are handsome and charming, except for one. One guy stands out from the rest with his lack of social skills and obsession with martial arts training. His name is Shinichi, and he is very awkward around girls. Things take a turn for the worse when Erimi's two friends hook up with the two handsome guys, leaving her stuck with Shinichi. Desperate, Erimi wants Shinichi to introduce her to a hot guy from his school, but Shinichi isn't thrilled with this idea.However, he finally agrees to find someone if she helps him with his martial arts training. What will happen with this unlikely couple? A fashionable, average high school girl and a serious, dedicated guy with an intense martial arts training regimen?
The last story in the book isthe shortest, and looks like it's an earlier work but theauthor. The artwork is rougher and not as polished. The story is cute though, naturally 🙂
I look forward to seeing what series this author wil publish next!