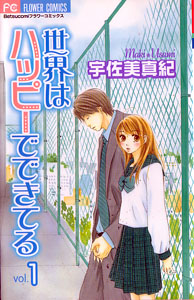 Title: Sekai wa Happy de Dekiteru
Author: USAMI Maki
ISBN# 4-09-138226-6
Flower Comics, 2004
Here is another teacher-student story by USAMI Maki. This time it spans 2 volumes. Again, I love USAMI-sensei's art style and stories. I am not sure why, but it is appealing to me. The art is simple, uncluttered, and cute withought being cloyingly over-cute. This is a non-smutty teacher-student story. It leans more towards the touching and romantic instead of sextactic smut 🙂 I wish this series was more than 2 volumes long!
This story is a teacher-student romance two times over. Our hero and heroine first meet at a ski resort. Her name is MIYAKUNI Kanae and she is very wealthy. His name is MORIHARA Eiji and he is working as her private ski instructor. Kanae is not a very good skiier, but he is a good teacher and helps her as much as he can. She is so wealthy, that he calls her 'Ojou-sama'. Morihara-sensei is so nice to Kanae, that she feels a strong attachment to him, especially when he comforts her and listens to her when she cries over a photo of a boy who recently broke up with her. Morihara-sensei makes her feel better, and Kanae soon falls in love with him, but she worries that he doesn't feel the same way because she is just another in a long line of ski students that he teaches. She is sad, yet relieved when he tells her that he will always remember her because she is his last student- he is quitting as a ski instructor! He likes her a lot too, but they have to part. They exchange cellphone numbers and vow to keep in touch. He even tells her to call him by his first name, 'Eiji'. This is a pretty big sign of his affection. Soon Kanae's vacation is over, and it's time to leave the snowy wonderland and go back to school and the real world. Little does she know they will soon meet again…
At high school, Kanae is an outcast. She is the wealthy daughter of the school Board Chairman. She has no friends. Well, actually, she had one, but that friend is the one that Kanae's boyfriend dumped her for, so now Kanae has no one. She often skips class and eats lunch alone. She only gets away with this behavior because of her family position. Kanae's life is about to be shaken up when she bumps into a new teacher at her school. You guessed it…. it's Morihara-sensei! He quit his ski instructor job because he got a job at a high school teaching English! By the cosmic coincidence that only happens in Shoujo Manga Land, the school he is hired at happens to be Kanae's school! It is unclear who is more shocked by their situation- Kanae or Eiji. He had no idea she was a high school student (oops!) while she can't believe he will be her teacher. She ends up being the happier of the two because she is excited to be able to see him every day. Wackiness ensues- Morihara wrestles with his affection for Kanae. She is a student, but he cares about her. He worries over her unhappy situation with her friends and schoolmates. He can't show his feelings for her because he is a teacher. Kanae has a hard time restraining her affection for Eiji. She also has a hard time dealing with her ex-boyfriend, her ex-best friend, and her ex-boyfriend's friend who is giving her unwanted attention. Kanae's life has suddenly become much more complicated. How will it all work out?