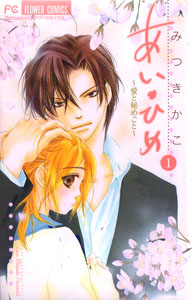 Title: Ai Hime ~ Ai to Himegoto
(Love Princess ~ Love and Secret)
Author: MITSUKI Kaco
ISBN# 4-09-130563-6
Flower Comics, 2006
I admit, I originally bought the first two volumes of this series completely at random because it was on sale 🙂 What can I say, I can't resist cheap manga! However, I am happy I picked it up, because it is just the sort of fun, cheezy shoujo manga story that I like 🙂 This is a 'forbidden love' kind of series, with a lot that is not at all original, but it pushes all my 'common shoujo manga plot device' buttons, so I can't help but like it. This series is 3 volumes long.
This is the story of high school student Mao-chan. She is an average, cheerful school girl, but she is stuck with parents who are always busy with work. One day, Mao is wandering around, furstrated and annoyed at her parents for cancelling a meal she was supposed to go have with them. Wandering around with nothing to do, she stumbles across a handsome man sleeping under a tree. He looks very peaceful, and Mao can't get over how handsome he is. She leans a bit too close, and is face to face with him when he suddenly wakes up and grabs her hand asks her who she is. Mao manages to escape, but then a gust of wind blows her hat off her head and into a tree. Mao manages to get herself stuck in the tree trying to retrieve it, and needs the man's help in getting down. He seems extremely amused by her and the situation, but there is also an intensity in his gaze that suggests he is attracted to her. The notion seems to be confirmed when he helps Mao from the tree and pulls her into his arms for a kiss. Mao is dazzled by this man and can't stop thinking about that kiss for a long time afterwards. She belatedly realizes that she never even got his name…
Mao's parents are about to go on another business trip, and they have decided that she will not be staying home by herself while they are gone. They don't like the idea of Mao, being female and a minor, beling left all alone. Therefore, they have decided that she will have a guardian while they are away. Her father's younger brother Takagi Jinya, will be coming to stay with her. Mao has never met this uncle of hers, but her father likes him very much. Technically, they are not really brothers by blood- Jinya came to live with him when he was a child- but they became family, and Mao's father expects her to treat Jinya as family as well. I think you can guess what is going to happen here….
When her family has an introductory meeting with Jinya, Mao is stunned to discover he is the same stranger she met under the tree that day! Looking handsome and mature in his suit and swept-back hair, Mao almost can't believe it's the same person, but there is no mistaking that voice. Jinya shows no expression when introduced, and makes no indication that he knows her. Could she be imagining things? But the return of the intensity of his eyes soon convinces her that he remembers. Oh, what a situation! Mao and Jinya will be living together! Her parents meant well, but they really could have no idea what poor judgement they have! This is similar to the situation in Otona Pink. How can Mao live with this man! Will they pretend nothing ever happened? He is so much older than her, and he is her UNCLE! Sure, they aren't related by blood, but they are nevertheless supposed to be "family". He seems so cold now, perhaps he doesn't like her after all?
Mao's dangerous cohabitation situation has just begun!