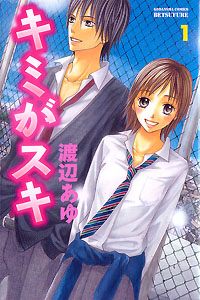 Title: Kimi ga Suki
(I Like You)
Author:WATANABE Ayu
ISBN# 978-4-06341512-4
Kodansha Comics Betsufure, 2007
MURAKAMI Aki likes to play basketball. She a 3rd year junior high student and is in her school's basketball club. She has fun playing with her teammates. Aki is close to one member of the club in particular, MASE Shinobu. Aki and Mase-kun are the type of couple that are close friends who tease each other a lot and call each other names. Mase is a funny guy and great basketball player. He has an amusing fascination with Aki's hair, which he likes to style in strange ways when she is spaced out and not paying attention.
Aki really likes Mase-kun, and has been thinking about confessing this to him. However, before she can get up the nerve to make her declaration, someone else confesses to her! It is a boy she has never met before, but he knows her. His name is HOUJOU Kouichi, and he is the star basketball player at another nearby school. He saw her during a basketball tournament a while back, and he really admired her spirit and playing. Houjou-kun's confession is very cute. He is blushing and nervous, and obviously likes Aki a lot. He asks her to not give him an answer now, but to maybe go out with him to get to know him first. Aki, swayed by Houjou's sincerity, agrees, and feels very warm at his happy expression.
Meanwhile, things with Mase-kun are uncomfortable and confusing. Aki still likes him, and in a roundabout way, they sort of agree to go out with each other on Christmas Eve, a day in Japan that is usually a time for romantic couples to date. Could Mase-kun like her in that way? It certainly seems like it, but Aki can't be sure.
However, Aki must keep her promise to Houjo-kun, and she sets up a "date" with him. They are both very nervous and awkward, until he suggests they play basketball. Both of them have a great time, and Houjou explains more about how he fell for Aki. He really does admire her, and is so happy that she agreed to go out with him. He also really loves basketball. Aki finds herself admiring him too, and his passion for the sport.
When Aki discovers that sometime during their date she lost a hair band that is very important to her (given to her by Mase-kun) Houjou does everything he can to find it. Unfortunatley, right when he does find it, an accident happens when a load from a nearby truck comes lose and hits him.
Poor Houjou-kun is in the hospital. And even though he lies at first, he will never be able to play basketball like he used to. Grief-stricken, Aki doesn't know what to do. It is all her fault! Houjou-kun doesn't blame her at all though, and puts on a very brave face. He is everything that is kind and caring towards Aki, in spite of his injury. However, Aki feels an awful crushing guilt.
On Christmas Eve, when on her outing with Mase-kun, all Aki can think about is Houjou-kun. Even when Mase-kun actually confesses to her, Aki realizes that she cannot answer his affection. Even though she does love Mase, she must be with Houjou now. She turns down Mase-kun, and tearfully goes to Houjou.
Aki becomes Houjou's girlfriend, and plans a new start for herself. She and Houjou will be going to the same high school, and Aki will not have to see Mase-kun.
However, can a relationship that starts partly out of guilt really succeed? Mase was hurt when Aki turned him down, but Houjo is so happy. Aki really does like Houjou too. When Mase turns up as a student at Aki and Houjou's high school, Aki's confusing days are about to begin!