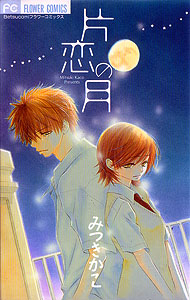 Title: Katakoi no Tsuki
Author:MITSUKI Kaco
ISBN# 4-09-130249-1
Flower Comics, 2005
I bought this manga because it is by Mitsuki Kaco, the author of Ai Hime, another series I have already talked about on this site, and one that seems to be pretty popular. This series, Katakoi no Tsuki, is a work she did prior to Ai Hime, and is a one-shot volume. The main story takes up the entire book. I probably shouldn't talk about this series right after I talked about the manga Crazy For You because they have a similar feel, but what the heck. I liked this volume, so here it is 🙂
Katakoi no Tsuki focuses on a group of four friends. Three of them — the athletic Souta, the serious and studious Chiaki, and the pretty Miyako — are childhood friends and have known each other for years. The fourth member of the group, Kurumi, joined them this year. She was recruited by Souta, who was excited when he met her and realized she is a great cook. Her lunches taste so good, he dragged her to the school roof where their small group meets every day, and they were all soon fast friends.
Their small group is very friendly and affectionate, and they treat Kurumi almost like a pet, hugging her and thinking she is adorable. For her part, Kurumi loves being with Souta, Chiaki, and Miyao. She makes treats for them, and they have fun chatting or studying up on the roof.
For Kurumi, the days are especially important to her because she has a huge crush on Souta. He is cute, outgoing, athletic, and very friendly. When they all went to an evening outdoor festival, he even protected her from a pervert. But Kurumi soon realizes something very upsetting to her – Souta is in love with Miyako. His behavior when he helps out Miyako when she is in danger is so much more intense and heartfelt than the fierce but friendly protection he offered Kurumi. Miyako seems oblivious of Souta's deeper feelings, but now that Kurumi knows, she feels she must step aside. Miyako is her great friend, and she can't steal Souta away. All she can do is be a good friend to them both.
Souta and Kurumi are very close, but only as friends, of course. Because of this, they have lots of fun times, and Souta feels comfortable around her. Comfortable enough to eventually talk about his feelings for Miyako. Kurumi can only smile and be supportive.
As there always is in shoujo manga, there is one person who observes all the romantic troubles going on around him and can see how Kurumi cares for Souta who cares for Miyako. Chiaki is a serious, smart guy, and he is very sharp. He offers support to Kurumi. And she is going to need it after Souta tells her he is going to confess to Miyako…