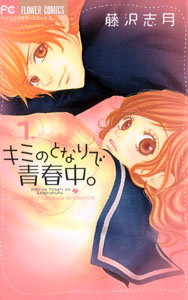 Title: Kimi no Tonari de Seishunchu
Author: FUJISAWA Shizuki
ISBN# 978-4-09-132158-9
Flower Comics, 2008
Ahhh! It's another attack of the random translucent color haze! Look at this cover! It is very cute, but once again, Flower comics manages to use the 'color airbrushing' technique to decorate a cover. I am getting really tired of this! Anyway, about the book: I bought this because it is by the author of "Love Fighter", another series I talk about on this site. I liked that series a lot, and even though it was only 2 volumes long, it was a lot of fun. This is volume 1 of a new series, and I hope it will last longer than 2 volumes. I like this author's artwork, though I think the fashions she dresses her characters in are a bit questionable. I like all the cute flashbacks in this book, too.
This series starts with a fairly standard plot device, which I really need to add to the common plot devices page. Our heroine, Miu, is a high school student who lives with her dad. One day, a few years ago, her mother just left, so now it's just Miu and her dad. Because of this, Miu has become a bit like an old housewife, in that she is always scanning sales fliers for good bargains at the local markets and doing things to take care of her dad and keep house. Because she is so distracted by all her daily life worries, she has not heard the big news that there is a new male transfer student coming to her school. Miu's best friend is really excited about this (even though she already has a boyfriend) but Miu is not really interested.
Well, not interested until she gets a look at him. Wow, this guy is CUTE. He looks like a celebrity! He is tall and handsome and stylish. Miu is sort of awestruck by him as he walks down the school hallway. But when he catches sight of her, something amazing happens. He runs up to her and hugs her! Miu is shocked! But this guy calls out her name like he knows her! Regardless, Miu pushes him away violently, punching him, and telling him to get back. Yet Miu's actions don't bother the guy at all. In fact, he says this is just like something Miu would do.
It turns out that this guy is Keita, Miu's childhood friend! Woah, she totally didn't recognize him! They grew up together as neighbors from the time they were born, until they were 13, and he moved away to America. Their parting was not a great one. Keita was always shorter than Miu, and she always treated him as a little brother. So when he confessed that he liked her, Miu didn't take him seriously, and treated it like a joke. The next thing she knew, he was on an airplane and gone. She never got to apologize. She wrote him letters, but there was no reply.
Now it is 3 years later, and they are 16 years old. Keita seems to have dismissed their past parting, and is eager to be friends with her again. In fact, he and his mom come over to Miu's house to visit her and her dad. They all have a great time! Miu thinks it is a little weird, but she is glad Keita is back. All the other girls at Miu's school are a bit jealous of Miu's close relationship to Keita, but thankfully there is none of that evil bitchy Japanese schoolgirl bullying going on. Instead, Miu has to deal with things like delivering love letters from other girls to him. This doesn't sit well with Miu, especially considering how she treated him in the past after his confession to her.
But Keita doesn't seem to mind, and instead, he makes it known that Miu is his important friend. Their relationship has been reset, and now they are back to being the close-like-family type of friends they were before. But is that really what Miu wants? Their timing was bad before, is it bad once again? Can Miu make Keita fall for her? But wait, who is this cute boy confessing to Miu?