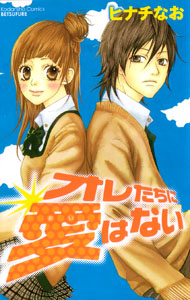 Title: Oretachi ni Ai wa Nai
Author: HINACHI Nao
ISBN# 978-4-06341556-8
Kodansha Betsufure Comics, 2007
Here is yet another book I bought purely for the cover. There is something about it that stood out. The vivid blue caught my attention on the shelf. I also really like this guy on the cover. His expression seems slightly surly, or maybe a bit arrogant? I love the trundere, surly type of guy 🙂 This amused me. I haven't read anything else by this author, and as far as I can tell, she only has one other book out besides this one, so she is relatively new. I like her work so far, this is a fun story, with pleasant artwork. This is a one-shot volume, with this main story taking up the entire book.
Our saga here begins in a hospital, at what looks like the deathbed of an old man. Sitting at his side is a high school girl. The old man, feeble and weak, tells her that while his company (a massive company that employs over 5000 people) is fine if he dies, he is worried about her, his beloved granddaughter, Mikoto. It is his final wish that she would find someone to marry into their family and support her and help with the business.
Before she knows what hit her, her grandfather's staff has set up an arranged marriage meeting for poor Mikoto. Mikoto doesn't want any part of this! She can't go through with an arranged marriage! She wants to play! Have fun! Besides, grandfather seems to have made a miraculous recovery! But her grandfather and his servants are firm, and Mikoto can't get out of the meeting.
The potential husband Mikoto is to meet is the son of a former employee of her grandfather's company. His is 16, the same age as Mikoto. He is handsome, smart, top of his class, and is certain to be accepted into Toudai university, the top school. His name is SARUNO Itaru.
While Mikoto has to be dragged kicking and screaming to the meeting, Itaru is calm and polite and well-mannered. Surprisingly, the meeting goes rather well, Mikoto is struck by his gentle manner and reasonable thinking (and yes, his good looks!). When he politely asks if they should go ahead and become engaged, she says yes. Bit then things change immediately. Mikoto, feeling relaxed around Itaru, jokes around a little. But to her surprise, he takes a camera video of her, and threatens to show her behavior to her grandfather. He also manages to deliberately knock Mikoto into a nearby koi pond. What a jerk! Why is he acting like this! Didn't he want to get engaged?
Itaru explains that yes, he wants to get engaged with her, but has no plans to marry her. Wait, what? Ahh you see, Itaru has a plan! He thinks they should stay engaged together for a year. They can go to Tokyo. Then next year, right before his 18th birthday, they can break up (I think after she will supposedly have an affair) he will get some consolation money, and that's that. Mikoto is not exactly thrilled by this idea, but thanks to his video and pictures, she goes along with the idea. Soon they are enrolled in school together.
At school, everyone is excited to learn about their classmates who are engaged. For Mikoto, it's painful to try and play along, and to hear Itaru lie about their relationship so easily. Why is Itaru acting this way? Is he really this mean? Unlike Mikoto, Itaru is not rich. In fact, his family is in a fairly poor situation, with debts. Is he interested in Mikoto just for her money? Or does he hate her because of her money? He is a hard guy for Mikoto to figure out. Throw in a devious ex-girlfriend, a cat named Yakitori, and some nefarious corporate plotting, and you can see Mikoto's days are not getting any easier!
I enjoyed this book. The artwork is fairly clean and decent. I liked Mikoto a lot. She is fun and not spoiled, even though her family is rich. She is fairly normal, and sees the importance of family. Her parents died when she was young, so even though he is not rich, Mikto envies Itaru for having his family around him. She doesn't discriminate. Of course, this is a shoujo manga, so she can be clueless too, naturally. Mikoto is often drawn in a very silly way as she reacts to all of the horrible things Itaru says and does. Itaru is also a complex character. You never quite know what he is thinking, but he does have some very funny moments too.