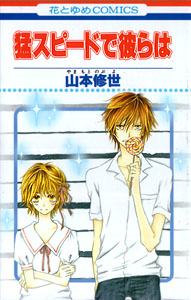 Title: Mou Speed de Karera wa
Author: YAMAMOTO Nobuyo
ISBN# 978-4-592-18260-3
Hana to Yume Comics, 2008
My local Japanese bookstore doesn't get a whole lot of Hana to Yume comics for some reason. I mean, they have all of the major popular series, like Hana-Kimi, Otomen, Vampire Knight, and such, but for some reason a lot of the random one-shot volumes or shorter series are never in stock. Either that, or they go quickly. So whenever I am at the store, I always scope out the HanaYume section, trying to find any new series that may have been slipped in when I didn't notice. I was happy to find this one this week. The cover is really cute, and it is not by an author I was immediately familiar with. It turns out I do have one other book by her, but for the most part, she is new to me. Yay! This book is a one-shot volume, with the main story taking up all 4 chapters. Personally, I wish it had gone on longer. While this book is fun and satisfying, it feels like there could still be more. Hmm.
SUWANO Komako is 17 years old, and is a 2nd year high school student. But you wouldn't guess it by looking at her. She is a very very short and small girl. This frustrates Komako so much because she is always being mistaken for an elementary or middle school student. Other middle-schoolers treat her like a peer, and high school people act like she is a cute little youngster.
Komako's height also causes her problems at school. She is a member of the track team, and is a runner. However, her short legs mean she has to work extra hard to keep up with her classmates, who are all just getting taller and taller. Their fast legs carry them farther with less effort. Komako wishes she could be tall like that, because she loves running. The feeling of the breeze in her face, her heart pounding… it is her favorite thing. But her short stature makes her think she is falling behind.
To make matters worse, Komako doesn't have a boyfriend. With the way she looks now, she is not likely to find one, either. Or is she? One day, at a book store, Komako sees a really handsome guy. He is tall, and cool, and he helps get a book off of a high shelf for her. Komako admires him from afar, and returns to the bookstore a lot in hopes of seeing him again. Then one day she does see him again, and she is in for a horrible shock!
He is at the bookstore, asking a clerk about a book he ordered, when they run in to each other again. But to Komako's humiliation, he asks her what middle school she is from! Middle school! Argh! Komako is quick to correct him, informing him that she is a 2nd year HIGH SCHOOL student, thankyouverymuch! He can't quite believe it. You see, he thought they were the same age! Er, wait a minute here… same age?
Yes, this tall handsome guy is not a high school student after all! He a middle school student, and not only that, he is a FIRST YEAR middle school student! Woahhh! He does not look his age AT ALL! Komako is shocked. This guy, HASEGAWA Rui, has just the opposite problem that Komako has. People are always thinking he is older than he is. High school girls hit on him, adults assume he is in high school. But he isn't! He is only 13! Well, ok, he will be 13 very soon!
Wow, age gap! A 13 year-old boy and a 17 year-old girl? Naturally, once they realize their age differences, Komako sees Rui in a different light. He is like a little brother to her, and she insists he call her "older sister". They end up becoming friends, often meeting after school to get something to eat and chat. Komako does her best to be a good older sister type of person for Rui. Rui's height and good looks get him a lot of unwanted attention that he is too young to really know how to deal with it. Komako really likes Rui, and is charmed by his moments of maturity mixed with his moments of childish enthusiasm.
But when her high school classmates see Rui, they don't realize he is in middle school, and some of them set their sights on him. This worries Komako in more than a sisterly way… but with such an age difference, could they have any other kind of relationship?
This is a really cute series, and I wish it would have gone on longer. I especially enjoyed chapter 3, which is from Rui's point of view. Even though he is cute, mature-looking, and popular, he is really just a kid, and he can be very naive and adorable. He has his own problems with being mistaken for being older, and he has his own insecurities due to his young age. Even though she is small, Komako is cute and much older, and has high school friends.
The art style is simple, uncluttered, and cute. There are a few random moments of 70's shoujo manga style when a character reacts strongly to something. This is a light-hearted and silly book, but it's worth checking out.