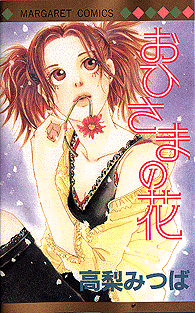 Title:Ohisama no Hana
Author:TAKANASHI Mitsuba
ISBN: 4-08-848827-X
Margaret Comics, 1998
I purchased this manga because it was by the same manga artist who did another series I have already summarized on this page, 'Akuma de Sourou'. I liked that story so much I figured her other stuff might be cool too, and it is! The art in this isn't quite as nice as the Akuma de Sourou art, but it is right up there. Once again everyone in this manga has very unique fashion sense. Camoflauge, layered clothes, and spiky hairstyles once again are the norm. This book, unlike 'Akuma de Sourou' is filled with yomikiri (one-shot stories). It seems that most of the random series I have been buying lately are Yomikiri books. Anyway, this one contains 3 stories of romance.
The story with this girl on the cover is my favorite in this book. She has such interesting hair, doesn't she! Anyway, her name is Tomiko and she is a high school girl who is a bit lonely. She has a crush on a guy in her school who doesn't even know who she is, and already has a beautiful girlfriend named Ryoko. (depressing!) Every day she can see him (his name is Tamaki-kun) sitting on the steps outside of school. From her desk in her classroom she observes him leaving with his girlfriend and wishes that he could be hers. Fortunately for Tomiko things change one day when she is at the school incinerator tossing out some trash. She overhears and argument between Tamaki-kun and his girlfriend, which results in him walking by Tomiko and giving her the bouquet of birthday flowers meant for Ryoko. Could things be going badly between Ryoko and Tamaki-kun? If so, this means Tomiko may have a chance to get him! But could she take advantage of the situation like that? The way Tomiko handles the problem is very cute and made me really like her character.
The other stories in this book are okay, but I liked the first one so much more 🙂 The other stories include one that sort of reminds me of another manga I summaried called 'Good Father'. In this short story, a girl raised by her father after her mother died tries to get her overprotective father to accept her boyfriend. There are five stories in all, and they are all high school-type romances.