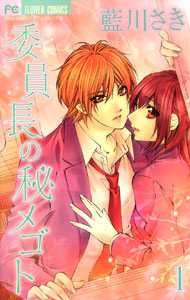 Title: Iinchou no Himegoto
Author:AIKAWA Saki
ISBN# 978-4-09-131617-2
Flower Comics, 2008
I really like this author, AIKAWA Saki. While her stories might not be the greatest, there is something about her artwork that I really like. The lines are solid, crisp, not all scratchy and wispy. The chapter title illustrations are really pretty too. I also like the way she uses screentones in some scenes. And hey, even though most of her lead male characters look exactly the same, they are all hot, so I don't mind so much 🙂 I think I own most of Aikawa Saki's works. This is volume 1 of what looks to be a continuing series. And, while this series does run in Sho-Comi, one of the smuttier magazines, this series isn't exactly smutty. There are some scenes of attempted smut, hehe, but really, this is more of a 'fade to black' type of series.
Our heroine, SASAKI Ayano, is a fairly straight-laced sort of girl. She is a good student (if not the most self-confident) and she is the "Innchou," or class representative. Her normal high school days are turned upside down when, at a class party, her classmates pressure her into drinking. Ayano can't hold her alcohol, and before she knows it, she has passed out! When she wakes up, she is startled to find herself in a strange bed. In only her underwear. And there is a GUY sleeping next to her!
Wait, what happened here!? How did she get here? Ayano has no memory, and she quickly begins to freak out when she realizes that the guy in bed with her is none other than Kagura-kun, one of her classmates. But he is not just any old classmate. He happens to be the next in line to lead the Kagura-gumi, an infamous Yakuza family! Kagura-kun is the 10th generation leader! Oh no, how could she have ended up in bed with HIM!?
Ayano is scared, but is soon distracted by thoughts of what may have happened last night. When he wakes up and flashes a cute smile at her, telling her she was cute last night. Ultra panic sets in. Oh my gosh! She didn't do it with him, did she?! Kagura looks like he is enjoying the situation, and he doesn't bother to clarify any of Ayano's obvious conclusions. But he is actually pretty nice, and when he realizes Ayano is hungry, he leaves to get her some food. When he returns to his room, she is gone.
Later at school, Ayano is consumed with worry that Kagura might tell others what happened between them. He worries are groundless, really, because everyone at school tends to stay away from him because of his yakuza connections. The fact that even though she is scared, Ayano confronts him and asks him not to tell, really impresses Kagura. In fact, when Ayano is close to him, he actually blushes quite a bit! There is more going on here than Ayano knows. How is she going to manage in this crazy situation, sharing a secret with a yakuza leader?
Kagura-kun is really cute. Even though he has a rather scary family and home life, he is actually pretty sweet and thoughtful. Sure, he can break out the rough yakuza language when he needs it, but when it comes to Ayano, he has an obvious weak spot. He actually gets flustered sometimes when around her, and he makes some great facial expressions. Surprisingly, his own confidence in his relationship with her is not as secure as he would make it look, and even his feelings can be hurt.
This is a very cute series so far, with the usual rival love interests, dangerous yakuza adventures, and romantic angst. I look forward to volume 2!