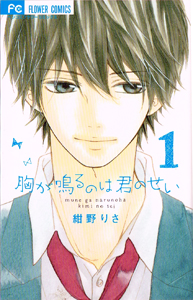 Title: Mune ga Naru no wa Kimi no Sei
Author: KONNO Risa
ISBN# 978-4-09-135256-9
Flower Comics, 2013
I know I have done a poor job of updating this site recently, but believe me, I haven't stopped reading shoujo manga. I have a large pile of series I'm actively collecting and eagerly await each new volume. This is one of those series. It's just your basic high school romance series, but for some reason I really like it. The art style is very clean and attractive. It reminds me a little bit of SAKISAKA Io's (Strobe Edge, Ao HAru Ride) art style. It's something about the eyes and the shape of the faces that feels similar.
The story begins when our heroine, SHINOHARA Tsukasa, is in junior high. A handsome boy named Arima-kun transfers into her class during her 2nd year, and over time, Tsukasa grows to like him very much. He is a kind, easy-going guy who is friendly to everyone, but is just a bit closer to Tsukasa. They live near each other, so they walk home together often, and they laugh and joke with each other. It is a close friendship, but Tsukasa wishes it could be something more. As graduation approaches, Tsukasa starts to worry she won't see him again because he won't tell her what high school he is applying to. Filled with urgency, and gathering her courage, Tsukasa finally manages to confess her feelings to Arima. Unfortunately, things don't go well for her. Arima rejects Tsukasa, saying he doesn't see her in that way. Heartbroken and dejected, Tsukasa almost gives up on her love. But the next day (when Tsukasa would rather avoid him) Arima sticks up for her in front of a mean classmate's teasing. Tsukasa decides that Arima's rejection is not the end after all. It's a beginning! She will not give up on her love and will do whatever she can to make Arima fall for her!
It looks like she will be given another chance to do so, because Arima has decided to attend the same high school as Tsukasa! Things are a bit awkward between them, but Tsukasa is determined to win Arima. Meanwhile, he continues to treat her kindly, as a friend. Tsukasa just goes on about her days, trying to be cheerful. Naturally, there are other obstacles in Tsukasa's path to true love. The first is Mayu, a cute and delicate girl who also happens to be Arima's ex-girlfriend. Is the reason Arima rejected Tsukasa because he can't forget about Mayu? Will he go back to her now that she has inconveniently returned? The next obstacle is Hasebe, an old friend of Arima's from his previous junior high. Hasebe is now their classmate in high school. He's a friendly, yet somewhat sly sort of guy. He's not bad or mean, but maybe just a bit crafty. Hasebe was helping Mayu with her desire to reunite with Arima. During this, he meets Tsukasa and is very impressed with her cute, outgoing personality. Seeing her so interested in Arima makes him feel odd, like he'd rather she showed that devotion to him instead. Meanwhile, Tsukasa has nothing to lose. She has already been rejected by Arima, so she is not afraid to tell people about her feelings and to even remind Arima about them. Will Tsukasa be able to change Arima's mind? Is there anything she can possibly do? Tsukasa doesn't know. It's hard to tell where she stands with Arima because he continues to be nice to her, and at times there are flashes of possessiveness. Could he like her after all, or is Tsukasa fooling herself? Is he actually just stringing her along, taking advantage of her obvious feelings for him?
Yes, this is a very typical love polygon manga, with a lot of unrequited first loves and teen angst. But for some reason, I really like it. Tsukasa is a nice character. She is nice, not overly clumsy or overly perfect. She tries hard and puts herself out there. She isn't psycho after her rejection and she doesn't crumple and get all weepy either. I like how direct she can be. I also enjoy stories where the guy who rejects someone later feels some regret for his actions. And this seems to be the case here. While Arima does turn down Tsukasa's love confession, as time goes by, he obviously starts to have some feelings for her and maybe starts to regret his hasty refusal. But by this time, could it be too late? There is only so much pining for Arima that Tsukasa can do before it's really time to move on, and there are clearly other people more than happy to be with Tsukasa if Arima isn't willing. Will bad timing be the thing to keep this couple apart?