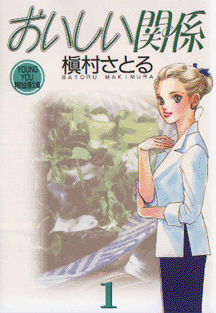 Title:Oishii Kankei
(Delicious Relationship)
Author:MAKIMURA Satoru
ISBN# 4-08-785132-X
Young You Comics, 1999
I can't believe I haven't covered this manga on my page yet! I just have to include Oishii Kankei, it's such a cute series! I was first introduced to this series through the live-action drama that was made several years ago. I fell in love with the drama- it was so funny, and the characters so were so likable 🙂 I was very happy to find the manga and compare the differences between it and the live-action TV series. There are some differences of course, but I have found that I like both versions of this story very much 🙂 I'll try not to confuse the stories of the manga and drama too much they are very similar) but forgive me if I say something that is specific to the drama, I sometimes get them confused in my head 🙂 The version of the manga I have pictured above is not the normal version. The regular tankoubon are a bit larger than this and have fewer pages. I have the bunko version, which is smaller in size than the original tankoubon, and usually has more pages. (many older series are reprinted in bunko format which results in fewer volumes, but thicker books). I'll try to get a scan of the regular tankoubon up as well.
The story follows the adventures of Momoe, a young woman with a privileged upbringing. Her family was rich, and all her life she has been traveling with her father and staying at the nicest places and eating the nicest foods. It is because she has always dined at the nicest restaurants that she has a very refined palette, and has the ability to distinguish the complexities of good food and bad. She can pinpoint ingredients by taste to a degree that the average person cannot. The manga begins with Momoe and her father dining at a restaurant and having a lovely time. It is her parents anniversary, and they are all happy. That night Momoe tasted a very delicious consume soup, a soup so complex and delicious that she always remembered the taste of it and longed to taste it again. Later, her father passes away, soon to be followed by her mother.
Poor Momoe is left on her own, but her sadness is turned around when she chances across a restaurant where the consume soup has the exact same wonderful flavor as the soup at the restaurant had that wonderful night a few years before. Momoe finds out that the chef who created the soup is a man named Oda. He is a very exacting and stern chef, and has perfectionist attitudes to his cooking. Momoe decides right then and there at the restaurant that she wants to work near the consume soup (and the person who can make it) and decides to become a chef too. Oda is not thrilled about this because Momoe intends for HIM to be her cooking mentor and she wants to work in HIS kitchen. Oda is the type that does NOT want to be bothered by flighty girls like Momoe. To make it worse, Momoe may have an excellent skill at tasting food (which in the drama is used in her job as a restaurant reviewer), but she is horrible at cooking. However Momoe is determined to become a good chef, and is determined to study Oda's technique so she can make consume soup like his someday. This manga is a lot of fun. The sparks between Oda and Momoe are classic! If you can find the drama based on the manga, get it too! 🙂