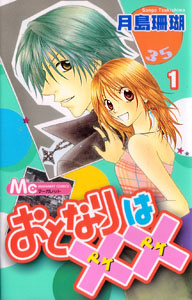 Title: Otonari wa XX
Author: TSUKISHIMA Sango
ISBN# 978-4-08-847898-6-3
Margaret Comics, 2005
I have had this series for a long time, and always meant to get around to talking about it here, but for some reason I kept forgetting. This is a cute series, I am not sure why I was distracted by other stuff. This is a fun little three-volume story, not too long, not too short. There are enough twists and turns to keep things interesting. The art is cute, if a bit ordinary. I like how some characters go through arcs where they actually develop and change over time. Yes, it is full of shoujo manga cliches, but I don't care!
Well ok, looking into our great big bag of shoujo manga cliches, what do I find here? ahh, here we go, two of my favorites! Childhood Friends and Idols! LOL. Yeah, this is another series involving an idol, but as usual, my tolerance for shoujo manga cliches is very high. What can I say, they are like comfortable old friends 🙂
Our heroine is a high school girl named Chihaya. She is your average, somewhat cute (but not gorgeous) girl. However, one thing does set her apart, and make her the envy of all her female classmates – she is friends with Ritsu. Ritsu, happens to be one of the hottest idols/models right now, and he also happens to be Chihaya's childhood friend. Even though he does go to their school and attends classes somewhat regularily, all the girls at school are too intimidated to approach him. However, Chihaya is always hanging out with Ritsu, and treats him like anyone else. This close friendship often has others questioning if they are actually a dating couple, but both Chihaya and Ritsu are very vehement about denying it.
In fact, Chihaya is in love with someone else. Ritsu is cute and all, and he is her best friend, but she can only view him as her childhood buddy. But Takamine-san is a whole other story! Takamine is Ritsu's manager, and Chihaya is totally in love with him. Takamine is only in his early 20's, but he seems so calm and mature and handsome. Chihaya always somehow manages to tag along with Ritsu when he goes to work on jobs just so she can see Takamine-san. As for Ritsu, he is perfectly aware of Chiyaha's obsession, and he grumpily tolerates it.
Things look up for Chihaya when Takamine calls Ritsu and specifically asks him to bring Chihaya with him to his next job. Chihaya is thrilled to be able to see Takamine again, and even more thrilled (much to Ritsu's dismay) when she learns that Takamine wants Chihaya to tutor Ritsu. It seems that Ritsu's busy work schedule has taken a toll on his grades, and he is at the bottom of their class ranking. As Chihaya is a good student, it would really help them out if she could tag along every day and help get Ritsu caught up in his studies. Chihaya is beyond thrilled. By being with Ritsu all the time, she will have more chances to see Takamine! She will be able to witness more sides to him than she has been able to see thus far!
Things get even more exciting when a model fails to show up for a commercial shoot, and Chihaya is asked to fill in and act alongside Ritsu. Chihaya loves Takamine, but why is her heart pounding when she sits so close to Ritsu? (I swear, I think I have seen this scenario in almost all idol manga, lol) Acting so intently with him in the commercial opens Chihaya's eyes to hos magnetic Ritsu can be, and why he has so many fans. But no, she still really loves Takamine-san. Right? As for Takamine, he seems to like Chihaya, too. He mentions being envious of Ritsu when he sees how much Chihaya dotes on him. Could he actually return Chihaya's love?
Oh boy, Chihaya's love is tested by betrayal, the glare of the ever-present media, the threat of beautiful rival actresses, and the wrath of jealous fans. Will she be able to find her true love? Is it Takamine or Ritsu?
It is refreshing to see a story where the girl isn't all completely infatuated with the idol just because he is an idol. Chihaya knew Ritsu before he was famous. Their relationship is cute. There are some adorable 4-panel comics on the pages between the chapters, too. My favorite one is about Ritsu when he was in middle school, right after his debut, the first time he was asked by a fan for an autograph. So silly! 😀