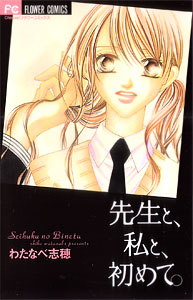 Title: Sensei to, Watashi to, Hajimete
Author: WATANABE Shiho
ISBN# 978-4-09-132126-8
Flower Comics, 2008
Here we go again. More teacher-student fun! Because really, you just can't have too many teacher-student shoujo manga series~! (But don't worry, my next entry will be a bit different) As for this, it is by WATANABE Shiho, and was originally published in Cheese! magazine. This author has done smutty series in the past, but this one is fairly smut-free. Once again Cheese magazine surprises me! I remember reading recently that there was some negative backlash in Japan regarding the smut level of some magazines like Sho-Comi and Cheese. I wonder if they are starting to tone things down a bit? Anyway, this is a nice one-shot volume. The main story takes up the first 3 chapters, about 2/3 the book. Then the last 1/3 is an unrelated story.
Yay, here we have another absolutely unrealistic student-teacher romance! These are such a guilty pleasure. Only in shoujo manga land can these things turn out so well, without any law enforcement involved, lol 🙂 Anyway, this is the story of HINAMI Yukika, a girl who is in love with her teacher, Ooishi-sensei. She loves everything about him — his looks, his voice, everything. She is not the only one who likes him, he is generally thought of as very cool and handsome. But Yukika is shy, so for now, all she can do is struggle to say "good morning" to him each day as she walks into school.
Yukika has liked him ever since they met by accident one evening away from school. Yukika was running late and rushing through the streets when, to her surprise, she encounters Ooishi-sensei having an argument with another guy. The guy wants Ooishi to come with him to a gathering, because if Ooishi isn't there, the cute girls won't go. However, Ooishi isn't interested. When they both spot Yukika, the guy latches on to her, excited that she is one of Ooishi's students and tries to get her phone number. But Ooishi is not gonna let that happen, and he drags Yukika away.
Ooishi-sensei offers to drive Yukika home, and off they go. Wow, sensei sure looks a lot different now than he does at school. At school he wears glasses and looks very serious, but now he looks stylish and is smoking. It is like he is a different person. Ooishi tells her to keep all of this their little secret, and Yukika does. Now she is so caught up in her feelings for him, she can barely say a word to him and simply greets him in the mornings.
Meanwhile, Yukika's best friend, Saki-chan, is just the opposite of Yukika. Saki is cool, stylish, and outgoing. She admired Ooishi-sensei right from the first day's school entrance ceremony. Saki is infatuated with Ooishi-sensei, and is always trying to do outrageous things to catch his attention. But Oosihi seems to only see Saki as a student, no matter what she tries to do. But how does he see Yukika? Is she just a student to him too? How can Yukika possibly betray her best friend by giving in to her love for Ooishi-sensei?
The second story in the volume is very fun. It's angsty and very… shoujo-ish. but good. It is called "Fake Letter" and is about three friends. Rinko, Yukina, and Keita are classmates on the verge of middle school graduation. They are very sad because while Rinko and Yukina will be going on to high school together, Keita is going to a school that is far away. Yukina is outwardly upset, while Rinko holds her sadness inside. She has been in love with Keita for a while, but to her horror, he tells her that she is the best friend he has had ever their middle school years. Even worse, he later confesses that he is in love with Yukina, and wants Rinko to deliver a letter to her!
Oh what an awful situation! Why must he be too shy to send a text message or an email! Delivering a letter from the guy she likes to another girl is the last thing she wants to do. But Rinko gets a break when she discovers that Yukina has a new boyfriend! Now she just can't deliver a letter from another guy to a girl with a boyfriend! So Rinko decides to take a risk and answer the letter herself, in Yukina's name…