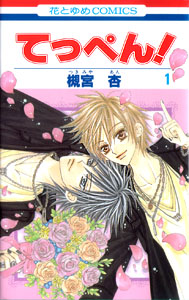 Title: Teppen! (The Top!)
Author: TSUKIMIYA An
ISBN# 978-4-592-18565-9
Hana to Yume Comics, 2008
Ahh! Here we go again! It's time for some more cross-dressing fun! And wouldn't you know it? It involves idol singing once again! Yet another manga reinforcing my suspicion that all of Japan's cute idol singers are really cross-dressers! As I am too poor to afford all of the monthly shoujo magazines to follow manga series as they are serialized, I am generally unaware of recent series until the first tankoubon hits the shelves. I had no idea what this one was about, but the cover is certainly very pretty. And it sure did look like a rather boyish girl there. Or perhaps it is a rare non-yaoi-magazine-specific shounen ai series (they pop up occasionally in the regular shoujo magazines)? My curiosity was piqued, and I had to get this to find out! It is amazing how many stories in my 'cross-dressing' category involve idol singing.
Anyway, here goes. Our heroine is a girl named Kobato. Until now, she has lived in America, but her family is Japanese, so she does speak the language. When her mother (whom Kobato believed to be her last living relative) lay dying, she tells her that Kobato must return to Japan and look for her older brother. He works there in the entertainment industry. Before Kobato can get any more information out of her mother (such as his name, a photo, or where she might find him), her mother passes away.
Thus Kobato heads to Japan for the first time, in search of this long-lost older brother. Given his work industry, Kobato heads to some areas where there are entertainment companies. But without much money and much of a clue to help her in her search, she begins to lose hope. It is at this time that she literally bumps into a guy named Takeru. Takeru happens to be an idol/model, and is popular. Kobato, however, is not interested in who Takeru is. She is more concerned with her meal, which was in a bag she was carrying that spilled onto the ground after their collision. Takeru tries to brush off Kobato — as it looks like he is trying to escape from someone at his management company — but Kobato is not about to let him go so easily. When the management company employee catches up, he sees Kobato – who is very boyish and cute, and assumes she is there for a talent audition, and drags her and Takeru into a nearby building.
Kobato has a sort of simple, practical personality, and decides to go along with this audition stuff because she is broke and this is a chance for a job and to find her brother. She has a habit of speaking in English before being reminded to speak Japanese. She does well in the auditions and works hard. She is not dazzled by the business (well, she certainly isn't impressed with Takeru) but she is good at dancing, and has an attractive style. When it is decided that Kobato would pass the audition and actually make a debut, everyone is very surprised.
Furthermore, housing will be provided by the company. Kobato will be sharing an apartment with Takeru and working on a project with him! Kobato is reluctant at first, but is soon convinced to take the offer. Working together with Takeru turns out to be fun, and everyone notices that they look good together and work together well. But what everyone doesn't seem to realize is that Kobato is a girl! Everyone, Takeru included, has been under the impression the whole time that she was a guy! In fact, this talent management company is for boys only!
Will this tiny little detail ruin Kobato's chances of success? What if her secret gets out! Also, there are some other people who take an interest in Kobato. While Takeru is popular, the main stars at the talent agency is a boy band called TOPZ. One member in particular, Iori, doesn't seem to get along with Takeru. They joined the company at the same time, but only Iori ended up debuting in TOPZ. Also, the other boys in the company do not appreciate how quickly Kobato was hired to make a debut. She faces jealousy and bullying from them. Oh, and hey, will she ever find her brother?